Top 15 Yoga Retreats in Sedona
The U.S can be a beautiful and invigorating place for yoga retreats, especially in the northwest. Sedona, a city in Arizona surrounded by a desert, is rich with possibilities. Come here to engage in activities like picnics, hiking, bird watching, and rock climbing. Scroll down to see our list of the best yoga retreats in Sedona, Arizona, if you're looking to take a restful and refreshing holiday.
Top 15 Yoga Retreats in Sedona
15. Los Abrigados Resort and Spa
The Spanish-inspired Los Abrigados Resort and Spa provides a range of health and wellness services. The resort provides top-notch spa treatments in addition to first-rate facilities to help you unwind your body and spirit. In the four therapeutic vortexes of the spa, massages and facials are available. There are also yoga classes accessible here, which is a huge plus. Also, there is a swimming pool with Olympic-style lanes where you can swim laps for exercise.
14. Sedona Pines Resort for Retreats in Sedona
Sedona Pines Resort offers top-notch hospitality, so reserve a room there today. The hotel takes great satisfaction in having a sizable heated pool. You can relax in the hot tub or have a swim. Use the adult lagoon spa to indulge in some tranquil meditation. Their Yoga courses can help you live a healthier body and mind.
A wonderful terrace with breathtaking pool views and a comfortable seating area with a flat-screen TV are additional features. The private restroom has a hairdryer and other necessities. There is complimentary parking and wireless internet access.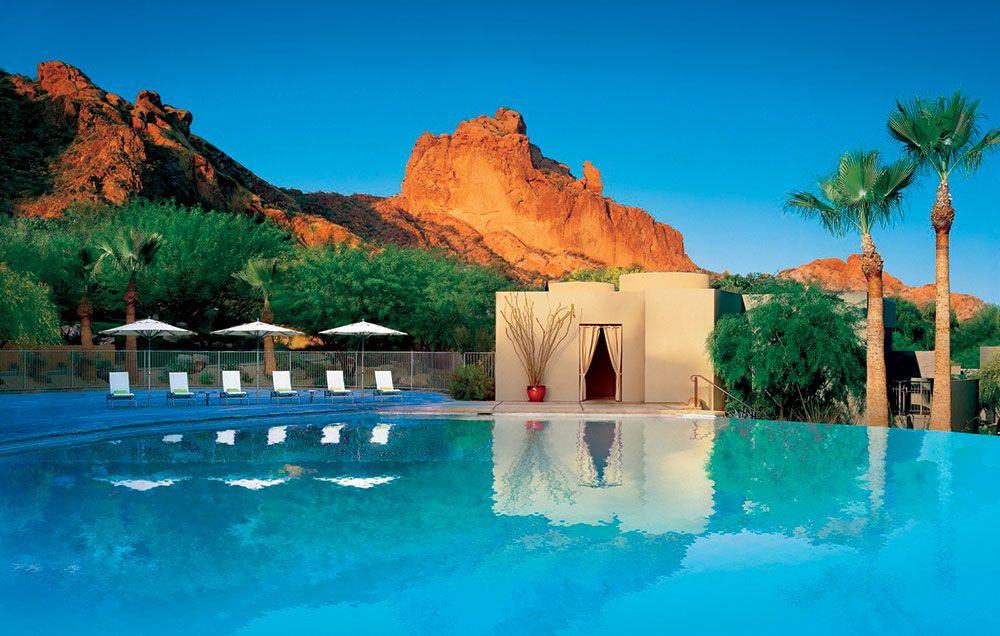 13. The Wilde Resort and Spa for Yoga Retreats in Sedona
Explore Sedona Rouge Resort and Spa to have a rejuvenating experience. You can nourish both your body and spirit at the sanctuary's top-notch spa. The spa offers massages, facials, wellness classes, yoga Nidra, rebounding, tai chi, and regular yoga in addition to other services. You can unwind in the hot tub or by the outdoor fireplace if you need some alone time.
12. L'auberge De Sedona
L'Auberge De Sedona, a five-star wellness resort tucked away in a verdant woodland, is widely known for encouraging holistic wellness. It has a top-notch spa that provides unusual therapies in a serene environment. Also, visitors can take part in yoga courses. Use the peace and quiet surrounding the pool to unwind and practice meditation. You can do yoga on the patio while admiring the mountains. From your accommodation, take in the stunning views of the garden and river in one of the most lovely retreats in Sedona.
11. Enchantment Resort for Retreats in Sedona
Enchantment Resort is a wellness retreat that will enchant you. It is tucked away in a verdant forest at the base of Boynton Canyon. For outdoor enthusiasts, it provides a wide range of exhilarating pursuits, such as mountain biking, hiking, and golfing. There is a spa on the property that provides a few different body treatments, skin care options, massages, and exercise options. Also, there is a yoga and movement studio with a focus on strength training, mindfulness practises, consultations, as well as various forms of cardio.
10. Hilton Sedona Resor at Bell Rock
The luxurious Hilton Sedona Resort at Bell Rock is a short drive away from Church of the Holy Cross and provides wellness services and yoga programmes. Stunning red granite formations surround it. It is one of the rare locations with a lush golf course. Visitors can sign up for exercise classes. Also, it offers a spa where visitors can practice yoga and play tennis.
The resort's restaurant offers a selection of southwestern specialties for on-site dining. The best part is that guests can stay with their pets.
9. Sedona Cathedral Hideaway for Retreats in Sedona
At Sedona Cathedral Hideaway, spend your holiday restoring your body and mind. It's a great bed & breakfast with comfortable, up-to-date accommodations. A daily gourmet breakfast, together with a snack and coffee tray is a treat for every guest. Moreover, you will receive fresh bathrobes and slippers. Visitors can take advantage of massage treatments at the spa or take part in yoga classes at the nearby meditation labyrinth.
8. Amara Resort and Spa
An oasis of calm and wellness, Amara Resort and Spa is located outside of the hustle and bustle of the city. The resort has an acclaimed spa with massages and other services. Visitors can ask for a magnificent facial or the renowned Rain Dancing Massage. There are also daily yoga courses available here.
In this resort, visitors can organize unique occasions like birthday celebrations, weddings, and family get-togethers. Furthermore available are a hot tub, a state-of-the-art workout centre, and concierge services.
7. Vita Pura Yoga for Yoga Retreats in Sedona
This life-changing vacation is waiting for you in stunning Sedona, Arizona; one of the most unique retreats in Sedona.
A luxurious 4-star resort with superb daily meals is tucked away at the foot of the renowned Red Rocks. Let yourself be led on enlightening treks to otherworldly landscapes as you immerse yourself in the profound silence and peace of yoga in the great outdoors. Learn to circulate energy through your body for optimum wellbeing and use cathartic Pranayama yoga (Breath-Work) to relieve stress and worldly strain.
6. Yoga Bloom Wellness for Retreats in Sedona
Join Yoga Bloom Wellness for five days of healing for the mind, body, and soul in Sedona, Arizona's ancient Red Rock energy! The goal of the Embracing Wholeness Wellness Retreat is to help you change your energy so that you can embody your best self.
Design elements at Sedona Vortex include stylish, colorful traditional furniture as well as 100% cotton sheets and towels. With the roomy outdoor dining and seating areas, enjoy the outdoors. The home, which is perched on a hillside, features breathtaking views of red rocks, gorgeous wood flooring, a sizable natural stone fireplace in the living room and the main bedroom, as well as other lounging spots.
5. New Moon Portal Retreat
This Ignite Your Intuition, New Moon Retreat in Sedona, Arizona, is a fantastic chance to trust, grow, and awaken to your Intuitive Self. Follow Lisa Gniady, an intuitive life coach and channel, as she leads you down a fresh road to self-exploration. You will embrace the unknown for 4 nights and 5 days, explore, let go, travel through acceptance, and change your perspective on what is preventing you from connecting with your intuition.
4. Ignite Your Intuition Retreat
This five-day retreat centers on Sedona Vortex Activations and incorporates four distinct practices: Kundalini Yoga, traditional meditation, sacred ceremony (at three Vortex locations), and crystal bowl sound therapy.
It is like being with your guru, fitness enthusiast, medicine lady, healer, and ascension guide when you work with Diane Leilani Cline since she is an expert at helping people as a spiritual coach.
You can immerse yourself in this retreat's experience while having the time and space to discover your inner compass and deeper purpose.
3. Santo Tomas Retreats
Santo Tomas Retreats offers a four-day spa retreat close to Antelope Canyon. There will be daily yoga lessons, meditation sessions, and cookery demonstrations at this retreat, which is open to anybody with any degree of yoga experience. Paddle boarding excursions to the Colorado River, Lake Powell, and the neighboring Horseshoe Bend are also offered. In their free time, visitors can use the spa, pool, hammocks, and fire pit at the house. The cost of the retreat includes daily vegan meals.
2. Bigger Life Adventures Retreats
Yoga practitioners can go on an invigorating retreat with Bigger Life Adventures in northern Arizona for a more primitive, off-the-grid experience. Features include guided breath work, Reiki, and yoga and meditation workshops. A visit to the Grand Canyon and the chance to stroll through a vortex in Sedona are two examples of excursions.
The cost of the retreat includes ayurvedic, vegan meals. To ensure that each visitor has a tailored experience, our small retreat has a maximum capacity of 8 people. In off-grid glamping yurts with a personal fire pit and hammock, guests will stay.
1. Yoga Inspirations for Yoga Retreats in Sedona
Diane Cline, a life coach and sound healer, is the founder of Yoga Inspirations. The purpose of the four-day Arizona Sound, Meditation, and Yoga Retreat is to promote spiritual growth and fulfillment. You'll practice Kundalini yoga, meditation, crystal singing bowls, and coaching during the retreat to strengthen your inner self and learn to love yourself. The retreat includes lodging for three nights, breakfast, dinner, and daily action-packed activities. There are common bathrooms available with shared, private, and double rooms.
The Bottom Line
Arizona is chock full of gorgeous retreats for you to choose from. Retreats differ from regular vacations in the sense that they can offer a transformative change and more focus on well-being. Arizona is a stunning location that will amplify your overall well-being experience with its' rustic scenery, beautiful mountains, and much more.