Virginia's health retreats are the ideal location for a rejuvenating, stress-free holiday, whether you're feeling overworked, want a little extra pampering, or are organizing a relaxing getaway. There are many reasons to choose a retreat over a vacation. Relax at a few of these health-focused natural spas and wellness retreats in Virginia to maintain an ideal mindset all year long.
Top 10 Wellness Retreats in Virginia
10. Anahata Education Center
The retreats at Anahata Education Center are specifically designed for each visitor's needs, using massage, Reiki, relationship counselling, heart alignment sessions, personal advice, and other therapies to develop an all-encompassing wellness strategy. Visitors have the option of bringing and preparing their own food or having professionals at the teaching centre prepare meals that suit individual preferences, such as organic vegan cuisine, raw juice blends, and even specific dietary demands like omni meals.
Discover: Top 10 Yoga Retreats in Big Sur, California
9. The Griffin Hotel for Retreats in Virginia
Griffin Hotel is a hotel in Williamsburg that is next to a golf course and in the heart of the city, making it one of the most unique retreats in Virginia. Famous landmarks include Governor's Palace and Colonial Williamsburg. Visitors can unwind and enjoy the local winery tours or go on an adventure on the many neighboring hiking and biking paths.
At the Griffin Hotel, the lush, serene natural beauty of ponds is evident at every turn. Being close to fantastic restaurants and spa facilities makes this a great location for a peaceful visit in the Historic District. Deep-tissue massages, Swedish massages, hot stone massages, and sports massages are among the services offered. There are other therapies available, including reflexology, hydrotherapy, and aromatherapy. There is a sauna and a steam room in the spa.
8. Wedmore Place
This stunning hotel, which is 4.9 miles (8 kilometres) from Colonial Williamsburg, has a full-service spa and on-site restaurants. There is a pool outside as well. Drive time to Jamestown Beach is 15 minutes. Wedmore House is situated on the 300-acre farm known as Wessex Hundred. The property is close to Jamestown, which is part of the "Historic Triangle" along with Williamsburg, Yorktown, and Williamsburg. Wedmore Place was created to give visitors the relaxation and serenity of quiet country living while being surrounded by a vast real estate of vineyards, forests, and meadowlands. It has a wellness centre and massage services.
7. The Williamsburg Salt Spa for Retreats in Virginia
The Williamsburg Salt Spa is the first salt spa on the East Coast and has given Virginians access to an entirely new form of wellness care. As you breathe in the air rich in minerals from the salt cave, your health and happiness are improved. These salt caves are especially beneficial for sinus problems brought on by allergies or during the cold and flu season.
You'll spend the first 45 minutes of your session unwinding in plush recliners while tranquil music reverberates off the salt walls. The Williamsburg Salt Spa also has an infrared sauna, three various types of massages, including their unique Hot Salt Rock massage, and a saltwater flotation tank for a tranquil drifting experience.
6. The Retreat at Veritas
Spend four or seven days at The Retreat at Veritas for a wellness immersion programme that teaches healthy living techniques. The programme has a strong emphasis on wellness activities like yoga and hiking, but it also offers a wide range of other healthful pursuits including horseback riding, cooking lessons, and relaxing spa treatments. The Retreat at Veritas holds that while standard health and wellness services can assist in bringing visitors back to a more serene condition, the ultimate spiritual reset involves food, wine, and casual social interactions with other guests.
Explore: 10 Reasons Why Wellness Retreats Are Worth It
5. Eupepsia Wellness Resort for Retreats in Virginia
The Eupepsia Wellness Center, which is situated in the Appalachian Mountains on the edge of the Jefferson National Forest, offers essential health and wellness services in an opulent setting. Rent one of the 26 rooms, which are spacious, and then consult with the staff about a customized wellness programme created with your needs in mind.
These one-of-a-kind regimens are created with your specific obstacles in mind, incorporating health themes like restorative, stress-relieving, detoxifying, weight loss, fitness, and plain relaxation. All meals are prepared on-site by the centre, which offers farm-to-table vegan and vegetarian dishes that support your journey towards better health.
4. Kingsmill Resort
The Colonial Williamsburg Historic District is located 8 kilometres (5 miles) from Kingsmill Resorts Williamsburg. Notable locations in the area include Colonial Williamsburg and Jamestown Settlement, and Water Country USA is a well-liked tourist destination. Golfing, winery trips, and outlet shopping are additional activities. Some services include deep-tissue massages, hot stone massages, sports massages, and facials. The resort has a private white sand beach where guests may unwind, a golf course where they can practice their swing, or a full-service spa where they can pamper themselves.
3. The Inn at Vaucluse Spring for Retreats in Virginia
When tourists reserve a mindfulness programme at The Inn at Vaucluse, a package designed to encourage guests to pay attention to what's happening in the moment, they encounter a blend of mindfulness and wellness treatments. You may access your inner power and knowledge for a more balanced life thanks to the practice's ability to lower stress, ease tension, and reset your mental focus. The proprietor of The Inn at Vaucluse was a practising physician with a focus on mindfulness therapies before creating this lovely Virginia retreat.
2. Earthwalk Retreat
A comprehensive natural sanctuary is offered at Earthwalk Retreat, a wellness retreat located alongside a secluded section of the Rappahannock River. The retreat's emphasis on bringing people closer to nature includes a variety of outdoor therapy features like a meditation walk, a traditional garden labyrinth, a sweat lodge, and an outdoor hot tub in addition to offering various meditation and yoga programmes.
1. Yogaville
Yogaville is a distinctive community dedicated to promoting spiritual, physical, emotional, and mental health. It is situated against the breathtaking Blue Ridge Mountains. The retreat offers a mix of three- to ten-day private retreats as well as residential programmes that let you fully immerse yourself in a yoga-centric lifestyle. Learn about the therapeutic benefits of yoga amid the retreat's tranquil surroundings, which include verdant lawns and hiking trails through wooded areas that invite introspective thought.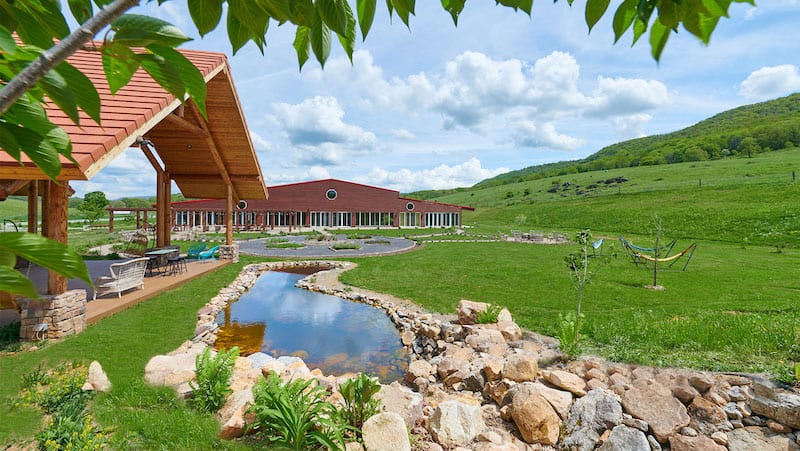 In Conclusion
Virginia is a stunning state and its health retreats offer the ideal setting for a relaxing, stress-free getaway, whether you're feeling stressed, want a little extra indulgence, or are planning a relaxing girls' trip. Unwind in one of these gorgeous resorts for a feeling of rejuvenation and a start to a new, healthier lifestyle.
Read About: Greatest 11 Retreats in Costa Rica