Ohio, a bustling state in the Midwest, is full of activities and people. The state offers everything, including cultural attractions, commercial venues, picturesque landscapes, and adventure opportunities. There are many facilities in the state that will treat you if you want to unwind and relax. Read on to find out the best wellness retreats in Ohio.
Also Read: Top 10 Wellness Retreats in North Carolina
Top 10 Retreats in Ohio
10. Mario's International Spa
In Aurora, this hotel is situated in a beautiful area. A full-service spa is ideal for those looking to relax because it offers a variety of services. Among other things, visitors can take advantage of body treatments and aesthetic services. Delicious Italian and BBQ dishes are offered on the on-site restaurant's menu. On request, special diet meals can also be provided. Also, the hotel has a front desk open around-the-clock in case you want assistance while there.
9. The Bertram Inn for Amazing Retreats in Ohio
This home is situated on the beautiful Jack Nicklaus Signature Golf Course in Canton. A flat-screen TV, a microwave, a refrigerator, and a minibar are included in the guestrooms. Parking and Wi-Fi are both free for visitors to utilize Delicious fish and steaks are served at the on-site restaurant, and the spa takes care of all the visitors' needs in terms of health and wellness. There are numerous therapies and massages available here. You can visit their gym as well. In the meanwhile, there is no charge to use their outdoor pool.
8. The Ravenwood Castle
Any trip will have a fairy-tale feel thanks to Ravenwood Castle, which is situated in the lovely Hocking Hills region. This country inn, which was constructed to mimic a medieval England fortification, offers visitors a variety of creatively themed lodging options. The spacious Rapunzel's Tower with a queen bed, an artistically furnished sitting space, and a fireplace are one of the luxurious accommodations in the fortress-like main building that is exquisitely equipped.
An eating area, a restaurant, and game rooms are all on-site amenities. Your stay includes a filling complimentary breakfast, and on Sundays, weekend visitors receive fresh cinnamon buns. Many state and national parks are nearby attractions.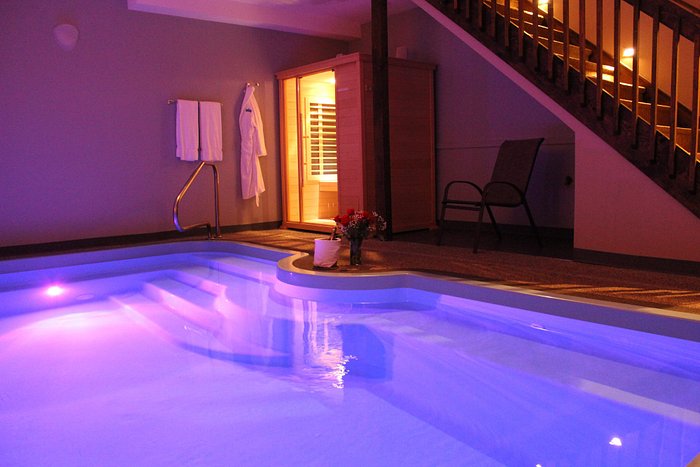 7. Belamare Suites Hotel for Retreats in Ohio
The Perrysburg Belamere Suites definitely provides a true home-away-from-home experience for those seeking it. There are 35 spacious, luxurious suites available, each with a separate entrance. Beautiful vaulted ceilings, inviting fireplaces, and spacious bathrooms with Jacuzzi tubs and walk-in showers are some of the interior highlights.
In-room breakfast and late-night snack service, a 24-hour concierge, satellite TV, and private parking in your own linked single-car garage are further guest amenities worth highlighting. Couples massages in suites are among the additional treatments that are offered.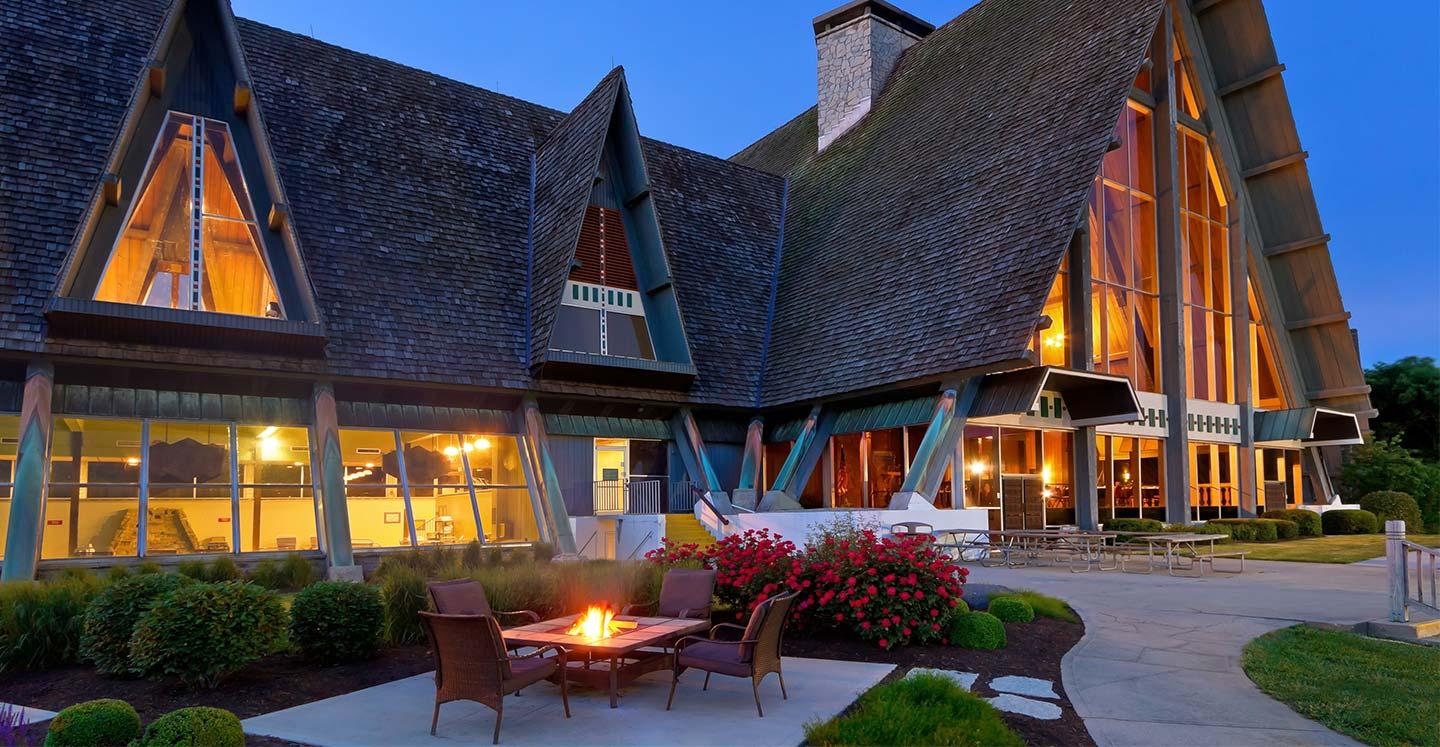 6. Hueston Woods Lodge
Hueston Woods Lodge provides a high level of solitude and tranquility since it is situated amid rolling farmland next to its own private lake. Both those seeking a calm, romantic holiday and those looking for a little outdoor activity frequent this resort. Standard queen and king rooms with balconies overlooking Acton Lake and magnificent views range in style from stunning deluxe suites with separate bedrooms. Also, these larger suites provide private balconies, separate living rooms, plasma TVs, and plush bathrobes.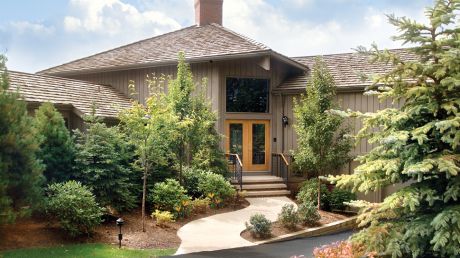 5. Walden Inn for Retreats in Ohio
The award-winning, 5-star Inn Walden in Aurora, Ohio, provides visitors an unrivaled luxury experience in the heart of the state's Western Reserve Park, just a short drive from downtown Cleveland.
This luxury complex, which is centered on what is marketed as a "spa lifestyle," includes luxurious lodgings, a top-notch spa, a yoga studio, residential units, and a golf club. The resort offers visitors access to its golf course, equestrian center, and fitness facilities in addition to its extensive spa services and activities. There are alternatives for both formal and informal eating, and the grounds create a lovely setting for weddings.
Also Read: Top 10 Yoga Retreats in Colorado
4. Landoll's Mohican Castle for Retreats in Ohio
A delightfully unique and magnificent resort, Landoll's Mohican Castle is well worth seeing. This secluded resort in Loudonville's Gothic flair provides a range of themed rooms that bring some fun to the treatment on offer.
Landoll's provides guests with a number of amenities to enjoy as well, with 11 opulent suites in the main "castle" itself, four more in a separate structure, and two standalone cottages. There is also a range of massage treatments available, a heated indoor pool, a hot tub, a sauna, and a fitness center. Moreover, there is a restaurant on the property with a patio for outdoor eating.
3. Hotel Breakers at Cedar Point
The Hotel Breakers at Cedar Point in Sandusky, one of Ohio's biggest resorts, has a strong emphasis on families and family entertainment. The magnificent Cedar Point theme park, known as the "world's roller coaster capitol," and the equally well-known Cedar Point Shores Water Park are both just a short walk from this hotel. Together, they make up two of the state's most well-liked attractions.
This well-known hotel offers conventional lodging in addition to larger suites and cabins with additional beds and separate living rooms for people who require more space. Free Wi-Fi, and the use of indoor and outdoor pools, hot tubs, and splash zones for children are just a few of the benefits and advantages offered to guests.
2. The Lodge at Geneva-on-The-Lake
The 4-star Resort at Geneva-on-the-Lake is one of the top wellness retreats in Ohio and is situated on the shores of Lake Erie. The lodge has 109 rooms and suites available, with the charmingly furnished standard rooms being a popular choice. Large indoor and outdoor swimming pools, hot tubs, on-site dining, and a fully-stocked fitness center are additional features that visitors are welcome to use. Would you like to be pampered? Visit the opulent spa's treatment rooms and facilities, or treat yourself to a service like a couple's massage.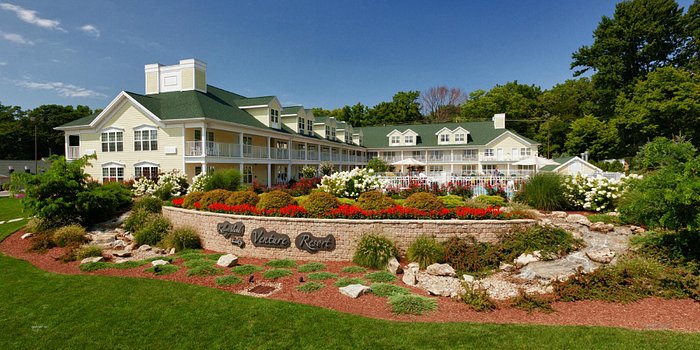 1. Kelley's Island Venture Resort
Spend a weekend trip in Ohio at this resort, which features 31 luxurious suites on the south shore of Kelley's Island. It is the only resort hotel on the island and is close to the ferry terminal as well as the city center. Your room will feature a private patio with a view of the lake or pool.
A children's playground, game area, outdoor hot tub, pool with treatment zones, and charcoal BBQ grills are also on-site. The largest American island in the western basin of Lake Erie commonly referred to as the world's Walleye fishing capital offers a distinctive spot to stay.
Also Read: Best 10 Spiritual Retreats in the United States
The Bottom Line
There are many ways to customize your holiday and lodging in Ohio, from luxury resorts with shoreline views along Lake Erie to full-service retreats and lodge-style resorts tucked away in Ohio's lush woodlands and even a few castles-turned-lodging. Ohio is full of beautiful sights and is an ideal retreat location.