Best Yoga Retreat in Tulum
Tulum is a fascinating place with lots to do. You can climb through thick forest and explore a subterranean river in LabnaHa Eco Park between dips in the azure sea, or you could tour the towering Mayan ruins that stand over the town. Even better, you can get in an ATV and go off-roading through the sweet sand dunes. Read on to find the best yoga retreat in Tulum.
Also Read: 12 Fascinating Retreats in New York
Top 15 Yoga Retreats in Tulum
15. Dive & Yoga Retreat: Connect to your Breath
This seamless fusion of yoga and diving will help you to connect with your inner breathing. You'll develop your skills or learn to dive whilst connecting to yoga while being looked after by a qualified guide. You'll work out with excellent yoga instructors.
Yoga's advantages transfer into better diving for both scuba and free diving! While you explore your breathing, confront your anxieties, and develop abilities you may use for a lifetime, you'll encounter people, places, and some of the most breathtaking natural locations on the globe. Attend this retreat to explore the connection between the breath and movement in all of its forms, and astound your senses both on land and in the sea.
14. Relax, Restore & Unwind Yoga Retreat
Absorb yourself in Tulum, the global centre of yoga. Get away from it all and practise yoga and meditation in a stunning Shala built in the middle of a permaculture farm, surrounded by vegetable beds, a pond, and birds chirping away. Take strolls along white-sand beaches, dive into a jungle Cenote, practise SUP board yoga in a lagoon, eat healthy organic food from our own farm.
At Harmony Glamping & Boutique Hotel Tulum, your accommodations will either be a suite with a king bed or the Nirvana 6x4 metre glamping tent. Of of 190 hotels in Tulum, Harmony Glamping & Boutique Hotel is ranked 14th and has received a certificate of excellence from TripAdvisor.
13. Revitalizing Personal Yoga Retreat
This private retreat program is perfect if you're looking for a personal retreat or holiday that incorporates yoga. Here, you may take part in intimate courses and give yourself permission to plan your day around yoga.
The area also allows you to see the stunning Tulum Beach, the mysterious Mayan ancient ruins, and the genuine Mexican Tulum Village. Take advantage of the versatility of your daily practice, which combines Hatha, Iyengar, Vinyasa flow, Yin Yoga, Meditation, and Restorative techniques.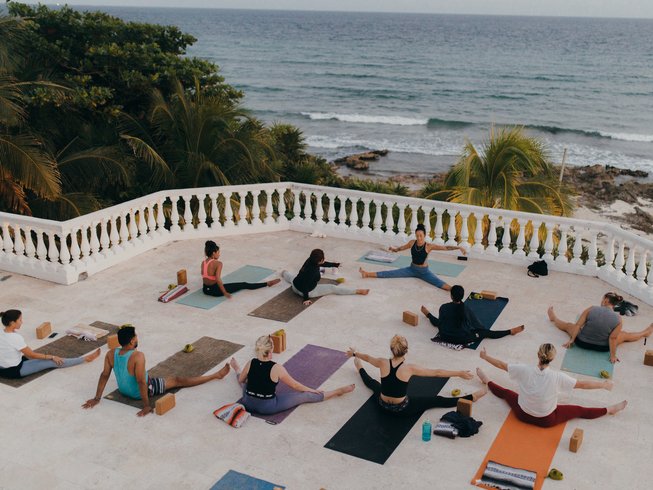 12. Oceanfront Wellness Retreat in Mexico
8-day cleanse emphasizing vigor, detoxification, and physical body care. A customized tri-dosha diet based on the historic Indian Ayurveda sciences of holistic health with a Mexican touch, dawn and sunset yoga overlooking the Caribbean, Mayan sites, jungle and beach tours, and lots of your time in nature is all included.
You have choice over how your calendar is structured if you have the appropriate number of tours, activities, and spare periods. Take on a few extra activities if you wish to do more, or ask your hosts to organize a tour for you when you have free time.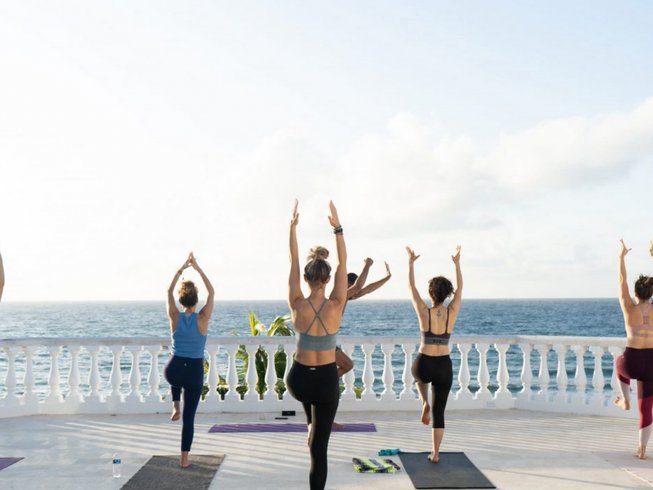 11. Copal Ocean Flow Yoga and Meditation Retreat
Join Copal Retreat for a week of yoga and meditation on Mexico's Pacific coastline with an emphasis on developing awareness and consciousness for "being" linked to the human experience. The Mayan Riviera will be visible from the rooftop during daily sunrise meditation and sunset yoga sessions.
The emphasis of the courses will be on traditional movements and adaptations designed to help you disconnect from your thoughts and connect with your body's wisdom while channeling and releasing feelings for consciousness within the physical and subtler bodies. The retreat is set up with the perfect amount of recreation and relaxation.
10. Detox, Yoga & Adventure Retreat
Throughout the course of this 10-day Ayurvedic detox, you will be guided through a thorough, gentle, and in-depth Ayurvedic holistic cleanse as your agni, or digestive force, develops, providing you more vigor, stamina, clarity, and support for your life's purpose.
In the three included workshops, you will learn about powerful and ancient life wisdom, how it functions, and how it can aid in your understanding of both your own life and life in general, as well as the rhythms of nature in both the world and your body, allowing you to harmoniously integrate into them.
9. All-Inclusive Yoga Boot Camp
A four-day retreat with a strong emphasis on reflection, connection, breathing, and self-nurturing that included prolonged yoga sessions, journaling, and touring Tulum's top attractions. All of this takes place at the Itzayana, a health resort tucked away in one of Tulum's richest natural locations and on the furthest end of the hotel strip.
You will take part in an active programme from Friday through Monday during a long weekend in order to launch your path to improved health and leave with both emotional and physical results.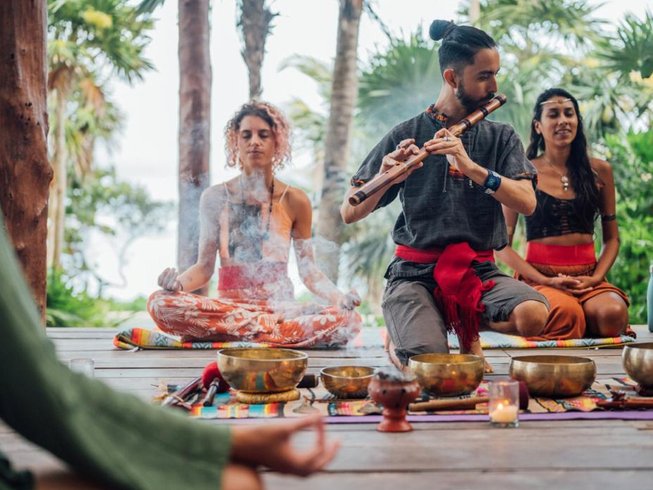 8. Healing Wellness Retreat with Yoga
Imagine for a minute sweet white sand beaches, azure-colored sea, and lush palm trees. This retreat reconnects you with your actual self and helps you experience a deeper sense of relaxation, well-being, and purpose. You can benefit from this program whether you have a physical illness or are experiencing physical discomfort, are having mental or emotional problems, are overcoming destructive addictions, or are simply trying to bring your mind, body, and soul into balance.
7. Tribal Tulum Personal Yoga Retreat
Tribal Tulum's private retreat program is for you if you want a small-scale retreat with yoga. Little workshops are offered here, and you are free to create your day in a way that honors your emotions. The area also allows you to see the stunning Tulum Beach, the mysterious Mayan ancient ruins, and the genuine Mexican Tulum Village. This is one of the best yoga retreats in Tulum.
You have the freedom to practice your favorite yoga style with instructors who can guide you to a deeper level of practice.
Also Read: Top 10 Places For Retreats in Louisiana
6. Personal Growth Yoga Experience
Are you prepared to join your community of people who want to disengage from their regular lives, re-connect with their biggest aspirations, and significantly improve their lives? Join this retreat for an inspirational, empowering, and rejuvenating personal growth event in paradise.
You'll connect with like-minded individuals, enjoy acro yoga, feel rejuvenated after a sound healing session, fall in love with the gorgeous sights, practice yoga at sunrise or sunset on the beach or in a magical lagoon, listen to live music and sound bowls, and much more.
5. Chakra Healing, Yoga & Ceremonies Retreat
Uncover your true self and heal your energy centres! Attend this retreat that honors the power of eight enlightening days in a stunning, environmentally friendly resort in the Mayan rainforest of the Riviera Maya, Mexico. When the seven energy centres are obstructed, various effects on our physical, mental, emotional, and spiritual well-being occur. Our personal connections, romantic relationships, professional relationships, health, attitude, spirituality, intuition, communications, self-worth, drive, strength, and grounding are just a few of the things that can be impacted by unclear chakras.
During this weekend, you will discover how to use your mind, body, spirit, and creativity to unlock and heal each chakra using a range of techniques.
4. Yoga Caribbean Beach Retreat
This retreat is a unique experience to satisfy your desire to discover who you are and give you the chance to enjoy all the charm that the historic Mayan town of Tulum has to give.
Two yoga lessons, fresh food from the area, and many other amazing and interesting activities will all be included in each day. This retreat goes above and beyond to offer a healthy, enjoyable, and adventure-filled program that is grounded in self-love and renewal.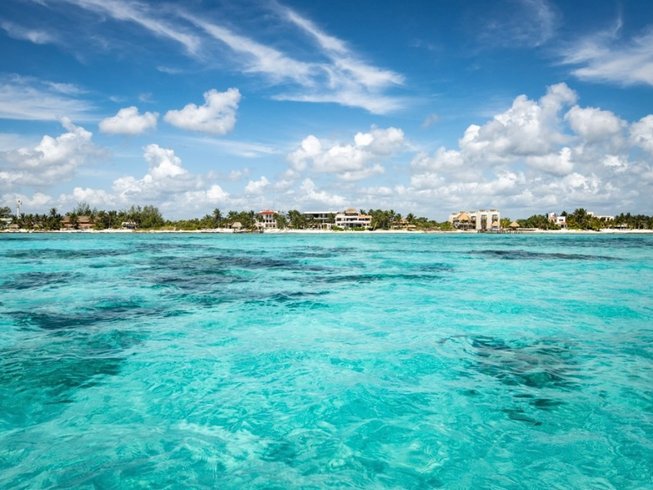 3. Experience the Beauty of Tulum Retreat
Travel to Tulum, Mexico, for a restorative yoga retreat. Discover your inner brilliance and the splendor of the Caribbean. Engage in daily yoga practice to re-establish a connection with nature. In this calm sanctuary, relax and find your equilibrium. The retreat offers the ideal fusion of yoga, healing therapies, and self-care to help you revitalise your mind, body, and soul. It is located in the tropical splendour of the Yucatan Peninsula.
2. Santulan Mindfulness & Yoga Retreat
You're invited to Tulum by this retreat to immerse yourself in the beauty, meet new people, explore the most breathtaking cenotes, partake in Temazcal, and embark on a yoga and inner-journey.
Yoga and meditation sessions are offered every morning, and in your spare time you may relax by the open pool or visit the local cenotes while taking in the jungle. Every level is welcome regardless of whether or not you have practiced yoga before.
1. Cacao Ceremony & Breath Work Retreat
In order to assist you advance in your practice, this retreat will include a range of yoga practices, a cacao ceremony, meditations, and breath exercises. Courses will be offered in an exclusive resort and shala.
You'll attend two yoga classes each day in addition to having time to explore the city, unwind on the beach, partake in transformational healing practices like a cacao ceremony as well as a breath work session, and go on once-in-a-lifetime excursions!
The Bottom Line
Tulum is a natural haven with stunning sights and soul-soothing retreats. Take advantage of this beautiful town and embark on a journey of self-discovery with a plethora of options for yoga retreats in Tulum available.
Also Read: Top 7 Places: Vacations in USA for Couples