If there is one thing that New Mexico is renowned for, it is the harmonious coexistence of man-made and natural wonders. This beautiful state is perfect for a road trip, with everything from the snow-capped peaks of the Rocky Mountains to the broad plains of the Chihuahuan Desert. The state is renowned for many other things, though, including UFO sightings and lively, entertaining festivals. Read on to find out the best yoga retreats in New Mexico.
Also Read: 12 Fascinating Retreats in New York
Top 15 Yoga Retreats in New Mexico
15. Awakening in the Desert Sacred Healing Retreat
Join healing artist Shan for this potent 6-day retreat (fifteen nights of lodging included) to purify, nourish, and refresh your body.
This physical retreat enables you to establish a soul connection with a small group of individuals who have a common goal, amplifying the healing energies. Throughout the process, get shamanic clearing, healing, and channeled messages for you. You can also visit sacred locations and feel the energy vortex of Taos, New Mexico.
14. Helping the Spiritual Awakening Process Retreat
This particular retreat is centered on your brand-new or ongoing spiritual practice. Receive the assistance you require while you discover your spiritual gifts. You will pick up tips on how to keep your body in good shape and establish limits that support your spiritual awakening during this retreat. Those who are navigating energy and spiritual transitions can benefit from this retreat. In the highlands of New Mexico, you can unwind, learn, and find tranquility.
13. Cheerful Yoga Getaway in Magical Taos for Yoga Retreats in New Mexico
Experience the "pull" of the magical Mesa of Taos and the stretch of your yoga session at the same time. Unwind and revitalize in a special vintage trailer equipped with all the latest amenities while enjoying the famously moonlit New Mexico sky. You will exercise and explore your body and mind with a range of beginner-friendly (although advanced practitioners are welcome) yoga programs, such as Yin Yoga, Vinyasa ("Flow") Yoga, and guided meditation, against this enchanting backdrop.
12. Yoga and Energy Recharge Retreat
Get ready for a weekend of rest, mindfulness, and reconnecting with nature to leave you feeling renewed. Taos Yoga Retreat in Angel Fire, New Mexico (a region of Taos) offers yoga retreats in a roomy ski chalet near a golf course. Every meal is provided. Every day there will be yoga, vibrational sound therapy, and mindfulness exercises available.
You will travel to Taos Pueblo during this retreat, the only authentic Native American community that has been both named a National Historic Landmark and a UNESCO World Heritage Site. The famous San Francisco de Asis Church, the Rio Grande Gorge Bridge, and Historic Taos Plaza are also on your itinerary.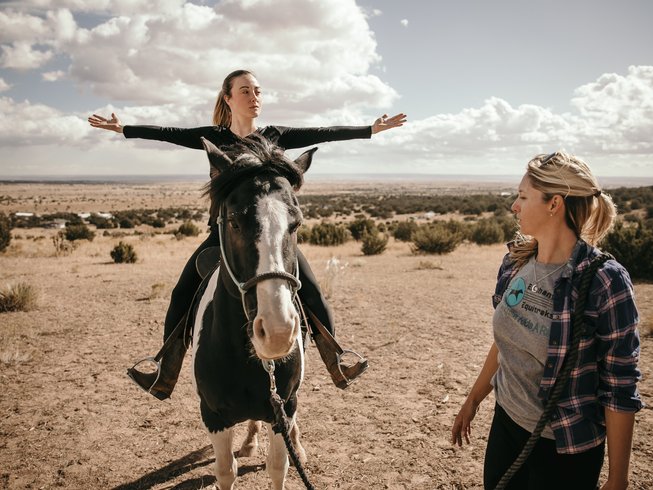 11. Restorative Horse Riding and Yoga Holiday for Yoga Retreats in New Mexico
For adventurous riders who want to experience the healing benefits of both yoga and horses, Enchantment Equitreks is the place to go. This retreat helps you achieve mental harmony, physical nourishment, and spiritual levity. Justyn Vogel, a co-owner, carefully designs each yoga session to match your level of experience and requirements. Your adventurous inclination is tested on daily trail rides via various terrain. In essence, this week is all about you and what you require to achieve balance and tranquility!
Because of the terrain and duration of rides, we demand that you have intermediate riding skills in order to fully enjoy your stay. No prior yoga knowledge is necessary, though!
10. Private Transformational Wellness Retreat
There are several retreats to support particular aspects of your life journey. This retreat will change you! You will gain a deeper knowledge of your illnesses or emotional obstacles and how they are influencing your general wellness during the medical intuitive component of the retreat. Your body will harmonize and adjust itself when Natural, Functional, and Oriental Medicine are integrated.
Throughout your retreat, you will receive 2-3 treatments, some of which may include sound therapy, shamanic/energetic journeys, light therapy, cupping, acupuncture, massage, and cupping. There are two types of meditation: moon and star meditation at night to help you sleep well, and morning meditation to help you set your objective for the day.
9. With Love Yoga for Amazing Yoga Retreats in New Mexico
Experience journeys that are intended to move you from your heart to your head. With love yoga carefully plans yoga retreats all over the world, including New Mexico, collaborating with the best eco-conscious lodges; offering culturally diverse experiences, profound connections with nature, and of course, specific yoga lessons designed to enliven your body and spirit.
These classes are ideal for people who want to create a unique yoga experience in their studio or place of employment.
8. Desert Harbor Retreat
Imagine a location with unending starry skies and utter silence. A setting that is delicate, rooted, peaceful, and motivating all at once. This is a wonderfully thought-out location created to serve as your private haven.
Desert Harbor is entirely solar-powered and was constructed with environmentally friendly materials. It is situated in the middle of New Mexico, halfway between Santa Fe and Albuquerque, and is not far from the famed Turquoise Trail. In addition to housing and personal retreats, Desert Harbor also provides elopement packages, massage therapy, spiritual direction, life coaching, and access to a private hot tub.
Also Read: Top 10 Retreats in Ohio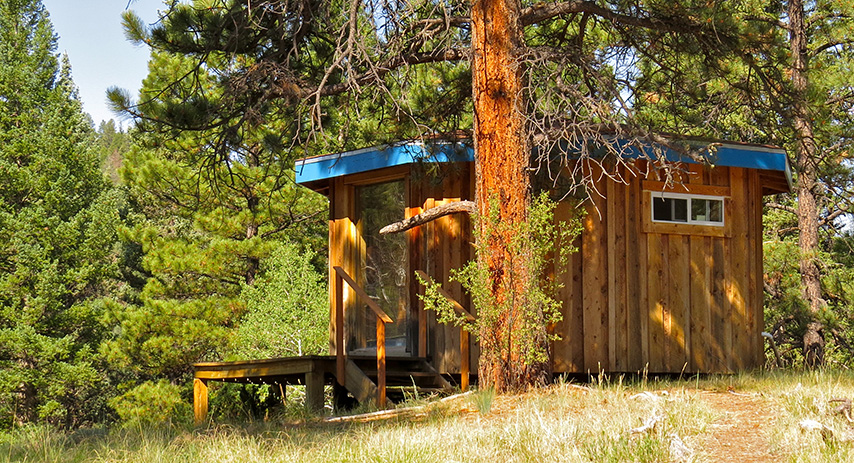 7. Vallecitos Mountain Retreat Center for Stunning Yoga Retreats in New Mexico
50 miles west of Taos, New Mexico, in the Tusa Mountains at 8,880 feet above sea level is the magical 135-acre wilderness retreat centre known as Vallecitos Mountain Retreat Center. In the ancient lands of the Ute and Jicarilla Apache Peoples, Vallecitos is a magnificent wildlife sanctuary nestled among high alpine mountains (Tusas Mountains, New Mexico). Allow yourself to be reintegrated with nature by engaging in Dharma and wisdom practices that promote individual and group emancipation.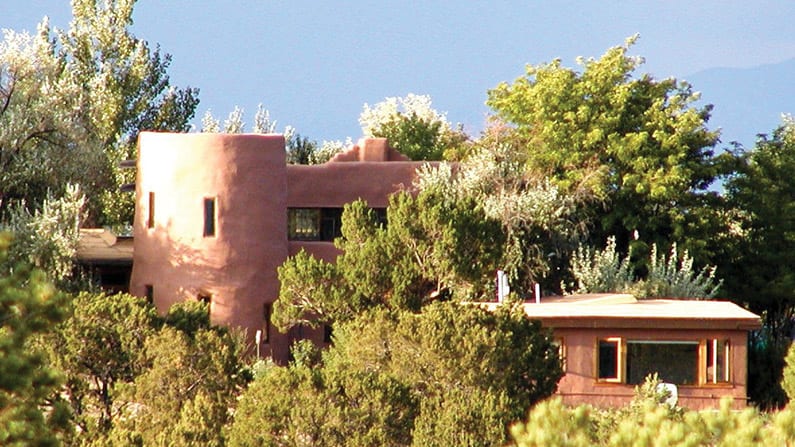 6. Synergia Ranch for Remarkable Yoga Retreats in New Mexico
Private ranch Synergia Ranch in Santa Fe, New Mexico, is run as a "Center for Innovation & Retreats." The picturesque setting, welcoming staff, and range of amenities at Synergia Ranch make it the ideal site for your upcoming seminar, workshop, gathering, corporate retreat, or conference. It is also very relatively affordable and conveniently located.
5. Yoga Retreats in New Mexico With Body of Santa Fe
BODY is an upgraded living community for health and wellness. At Santa Fe, New Mexico, there is an 8,000 square foot facility with a recently refurbished spa, a yoga studio, an organic food lounge, wellness activities, and a boutique for sustainable living. This special retreat centre in New Mexico emphasizes self-love and the therapeutic benefits of discovering your own value.
4. New Mexico School of Yoga
This amazing yoga school gives underserved populations and the professionals who serve them around the world instruction, programs, and facilities to educate and promote healthy living and inner peace. They provide a wide range of inclusive yoga, ayurvedic, and vedic teaching programming.
3. YogaSource San Mateo for Splendid Yoga Retreats in New Mexico
This quaint yoga studio in San Mateo Road, New Mexico, is a haven for those seeking peaceful yoga classes in a quiet, relaxing environment. They offer retreats and workshops in both asana practice and yoga philosophy. Seek this out if you're looking for a way to detox from the stresses of daily life and immerse yourself in yoga.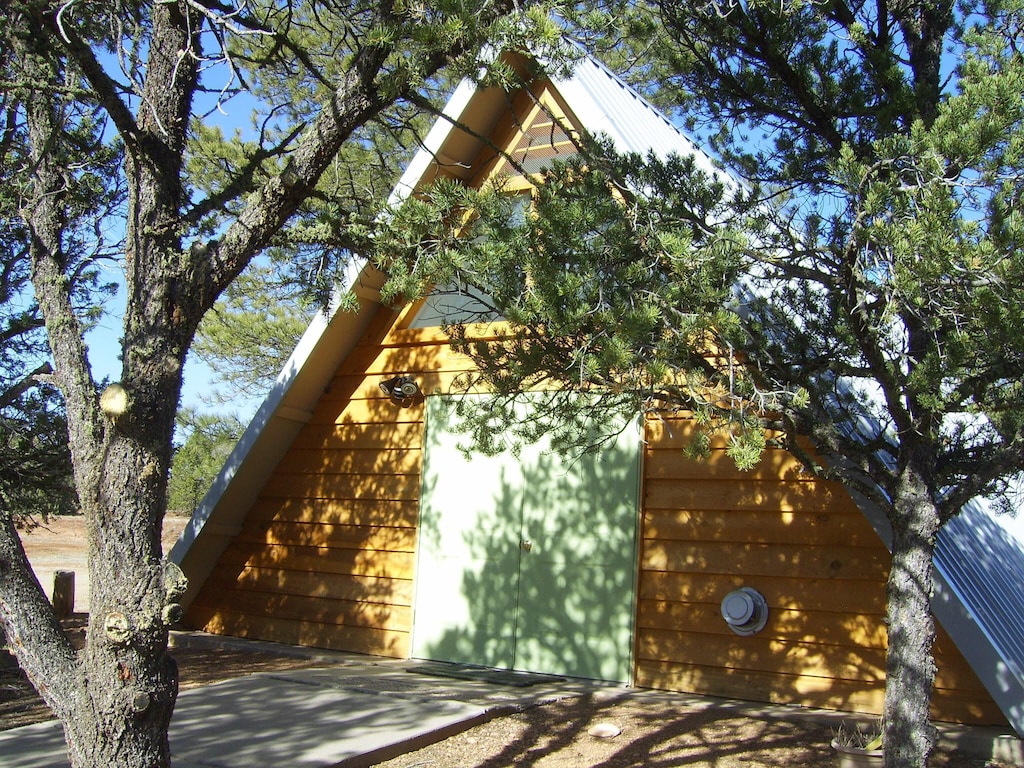 2. Bishop's Ridge Recreation Center
Bishop's Ridge is a pristine, tranquil area close to historic Santa Fe, New Mexico. Music, business conferences, youth or group camps, personal or creative retreats, and events of all kinds frequently take place at this year-round retreat and conference centre. This lavish venue hosts numerous events, including retreats and weddings.
1. Holy Cross Retreat Center
The Holy Cross Retreat Center is a haven for prayer, spiritual development, and hospitality in southern New Mexico, close to Las Cruces. Holy Cross respects people of all religions while concentrating on Catholic spirituality. In addition to leading and sponsoring conferences and retreats, they also welcome private retreatants to their hermitage, where they can practice yoga.
In Conclusion
New Mexico is a unique location great for relaxing and detoxing from everyday life. We've compiled the best yoga retreats in New Mexico for all yoga fanatics. Embark on a journey of self-discovery and transform yourself in this beautiful location.
Also Read: Top 10 Wellness Retreats in North Carolina