Surrounded by the tranquil arms of the ocean and enclosed by lush forests, Mexico is the perfect destination for yogis looking for a soul-satisfying experience. The sound of waves lapping on the sandy shores and the wind gently rustling through the jungle canopy create a peaceful atmosphere that is perfect for yoga and meditation. Keep reading to find out our handpicked best 10 Mexico yoga retreats.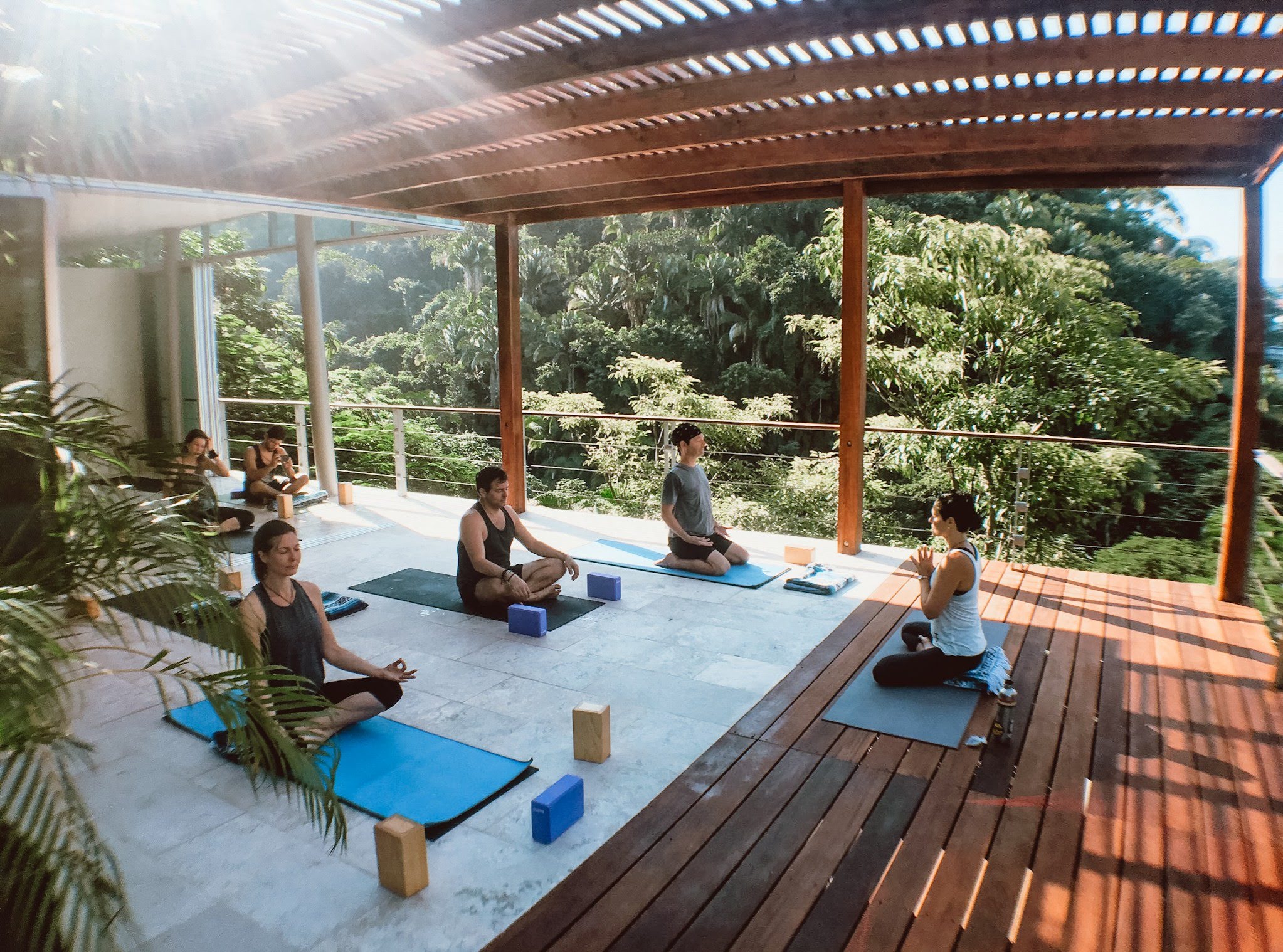 The Significance of Yoga Retreats to Your Health
With such a busy modern life, it is important to find the oasis where you can have rest and learn about yourself. Yoga retreats are the ideal getaway, where people can turn off their phones and turn on some peace. The retreats are a comprehensive package of yoga, mindfulness, healthy living, self-introspection with the objective of rediscovering oneself, and understanding others.
A yoga retreat helps revitalize the mind, body, and spirit hence creating peace and harmony that is normally not possible with the stress and busy schedule most people have.


How Mexico Improves Your Yoga Retreat Experience
The choice of the right destination is important for making a yoga retreat unforgettable. Mexico provides a wonderful environment for the yoga lovers due to its varied landscapes and wealth of culture. While the country's beaches and jungles are serene, they offer breath-taking views to complement your yoga practice.
Moreover, the hospitality of Mexico, its delicious meals and lively environment give you a place for relaxation and searching yourself. Mexico is just one of the places that you can go to for a yoga retreat that will not only improve your physical and mental health but also gives you the chance to get surrounded by a captivating mix of tradition, excitement, and peacefulness.


10 Best Yoga Retreats in Mexico
1. Xinalani Retreat (Puerto Vallarta)
Xinalani is a retreat for yoga practitioners situated amid the green surroundings on the shoreline. The visitors can also surf, zip-line, and even jungle walk for an unforgettable thrill experience in the midst of the wonders of mother nature.
Further Reading Top 10 Yoga Retreats in Puerto Vallarta


2. Yaan Wellness Energy Healing Spa and Yoga (Tulum)
At Yaan Wellness, dive into the jungle heart of Tulum; the Mayan tradition meets yoga. The retreat will take yogic form and will invite you to visit the vicinity of cenotes, old ruins, and real mayan rituals that you will enjoy a complete experience.
3. Present Moment Retreat (Troncones Beach)
The present moment retreat in the natural Troncones Beach provides a getaway for yoga lovers looking for peace and exhilaration. Practice yoga on a daily basis and go exploring nearby waterfalls, surfing, and beachfront meditation.
4. Haramara Retreat (Sayulita)
Haramara Retreat is a nest tucked in the Sierra Madre Mountains for any yoga lover. You can do yoga in open-air palapas, meditate near the sea; and have fun by taking a ride along the beach, or visiting the nearby fishing village of Sayulita.
5. Amansala Eco-Chic Resort and Retreat (Tulum)
Aman Sala in the beautiful town of Tulum blends health, yoga and an eco adventure. There is the opportunity for guests to go hiking on the beach, visit secret cenotes, paddle, or have a Maya muddy treatment, thus providing them with both adventure and relaxation.
6. Yoga Dicha Studio and Yoga Retreats (Puerto Morelos)
The serene Yoga Dicha Studio of Puerto Morelos offers personalized yoga retreats. In addition to daily yoga, the travelers can undertake snorkeling along the Great Mayan Reef, botanical walks and cultural life of Puerto Morelos.
7. Maya Tulum Resort (Tulum)
The Maya Tulum Resorts is a beach paradise where yoga merges with an adventure. Enjoy a sunset downward facing dog overlooking the Caribbean Sea, or have fun with a kitesurfing session, paddling boarding, or an excursion to the Sian Ka'an Biosphere Reserve.
8. Prana del Mar (Baja California Sur)
Located by the Baja California Sur, Prana del Mar is a calm place for yoga experts to practice in. Visit the well-equipped yoga studios that have magnificent sea views and take advantage of the nearby desert walks, watch whales and snorkel with sea lions and make the most of this thrilling experience.
Further Reading Top 10 Yoga Retreats in Iceland


9. The Yoga Nest Boutique Hotel (Sayulita)
The Yoga Nest boutique hotel in Sayulita is a cozy retreat that blends yoga and boho chic. Enjoy daily yoga classes as well as other activities like jungle hike, surfing and visiting art galleries to make your holiday unique.
10. Holistika (Tulum) for Yoga Retreats in Mexico
Holistika that sits within the confines of Tulum is a holistic wellness center and retreat center that promotes tranquility. Do yoga in the jungle, take part in temazcal ceremonies, traditional Mexican cooking and visit Tulum ruins nearby.
Cultural Immersion
Your yoga retreat is enriched by immersing in Mexico's captivating culture. Satisfy your taste buds with the genuine flavor of Mexican cuisine, featuring street foods and traditional foods. Go to local streets to watch artisans making pots and fabrics for souvenirs. You can experience Dia de los Muertos, a local festival that exposes one to vibrant and intriguing Mexican culture.
Interact with the locals using some simple Spanish phrases and broaden your relationship with the community. Participants can attend cultural workshops such as dancing or food with local inhabitants, thus gaining an authentic appreciation of Mexican background. Engaging in local cultures also provides a rich perspective. Incorporating Mexico's cultural mosaic into your retreat offers a comprehensive and soulful experience that transcends physical rejuvenation and invites a more profound connection to the nation's myriad traditions.
Further Reading Top 10 Places for Retreats in Louisiana


Conclusion
In the quiet landscapes of Mexico, these yoga retreats rethink health and wellness, combining inner peace and thrilling explorations. The cultural immersion paints another lively note on your yoga practice where you enjoy the activity in dense jungles and clean beaches. The retreat is made profound by engaging with local traditions, genuine cuisine and community.

However, these retreats give spiritual rejuvenation, making your return even more refreshing, enlightening and inspiring. Instead of being just a place, Mexico's yoga retreats invite you to rediscover your soul in the beauty and serenity of this magical place.