Mexico is the perfect destination for people looking for a holiday that prioritizes personal health. Many tourists come to the nation to stay at the various health retreats created to enhance both physical and emotional wellbeing. Each of these 15 retreats provides a distinctive experience that will jumpstart your path to greater health and weight loss. Keep on reading to find out the best weight loss retreats in Mexico.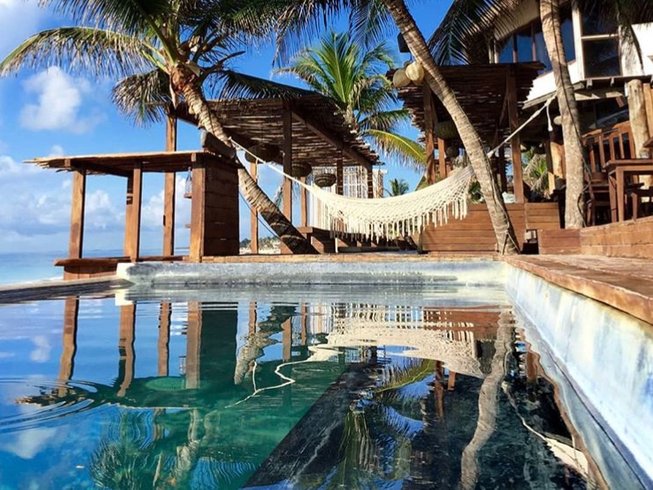 15 Weight Loss Retreats in Mexico
The Beyond Yoga weight loss retreat in Mexico is situated in Conchas Chinas, Puerto Vallarta. The city of Puerto Vallarta is incredibly therapeutic. Puerto Vallarta is located in ley lines, giving it an energetic vortex that draws people looking for serenity, meditation, and a therapeutic atmosphere, much like Tibet, Peru's Machu Picchu, and Arizona. Its magnetic energies make it the perfect location for a retreat, yoga, and self-discovery. Features seven days in a remarkably unique and casually lavish setting. It's the ideal place to retreat and focus on weight loss—open to the weather, covered in flora, and with a view of the Pacific.
2. Pura Vida for Weight Loss Retreats in Mexico
Situated in a tropical paradise in Mexico, Pura Vida is an acclaimed spiritual eco-retreat facility and hotel with a focus on wellness. For individuals seeking an affinity with nature and themselves, their lovely residence is located right on the coast. In addition to offering fitness camps, they also provide different types of retreats, bed and breakfast accommodations, an opulent tropical spa by the seaside, and a rigorous training camp for weight loss and fitness. Their quiet beach resort is tucked away in Yelapa, Mexico, inside Puerto Vallarta inlet.
The goal of Deep Root Movement is to bring together the four entities—physical, emotional, mental, and spiritual—through the use of therapists, experts, ritual leaders, and creative art instructors. They want to provide people with the means to live more contentedly and harmoniously by supporting them holistically along the road to self-discovery. They offer many unique workshops, such as team building and vocal activation, and many fitness-centered retreats to kick start your journey.
4. Jysoa Retreats for Weight Loss Retreats in Mexico
In Isla Mujeres, Mexico, Jysoa Retreats is offering a 7-day all-inclusive yoga retreat in Isla Mujeres, Mexico, focused on getting your mind and body back into shape. This wonderful retreat will address your physical, emotional, mental, and spiritual well-being.
You can anticipate Sivananda yoga breathwork excursions, peaceful morning meditations, and time spent in the shade of palm trees throughout this retreat. Your inner voice will be heard during the encounter. They will lead you through a range of techniques, from stillness to workshops with music. You'll use breathwork for connection and mantras for power, with inspiration from different yoga styles.
Come and take advantage of your customized on- and off-the-mat trip in luxurious, environmentally friendly cabañas with stunning ocean views, in Barbaneras' Mexico retreats.
You will be accompanied by tropical plants and animals, which will make you feel completely at one with the environment. You will have enough time and guidance of experts to promote physical fitness and weight loss.
In the Paledora Eco Resort, a jungle eco-resort, you'll have time to relax and re-establish contact with your spiritual self. Your needs will be met from the moment you land until you leave thanks to the on-site amenities, experienced professionals, and like-minded individuals you'll inevitably meet as part of your new journey. Paledora Selva offer multiple workshops, all fitness-related.
There are lodgings at Tribu Todos Santos to suit every preference. Exclusive to Tribu, 12 genuine Adobe tents and 3 luxury suites mix wood construction and rustic Adobe characteristics with a modern and stylish décor and all the conveniences you'd expect from a five-star hotel experience. All lodgings include air conditioning, private toilets, and an attractive, understated design that highlights the area's stunning scenery and fascinating cultural heritage.
This training camp, which was established in Thailand in 2006, is distinctive in that it focuses on classes of 10 individuals or fewer and places a strong emphasis on high-quality instruction and techniques with lots of one-on-one instructor time. No matter your skill level—complete beginner, intermediate, or advanced—360X has classes that can assist you in reaching your weight reduction goals, improving your fitness level, or getting ready for upcoming fights.
At this luxurious retreat amidst the splendor of nature, set off on a life-changing voyage of development, healing, growth, and self-discovery. Experience their diversified team's skillfully created programs, individualized sustenance, and compassionate direction. Their expertly crafted dietary strategy integrates the ideal ratio of light meals, filling meals, and intermittent fasting with a focus on purifying your mind, body, and soul. This strategy makes sure you get the best nutrition possible to promote your recovery and evolution. Many yoga workshops are available.
In this retreat, you'll travel for six days through Huatulco, Mexico's Paradise, on a journey of genuine self-connection. Temazcals and Cacao Ceremonies, embodiment exercises, meditation journeys, wonderful plant-based meals, dolphin and whale watching excursions, solitary beach days, nature walks, and a real immersion in your own beach villa are all included. Let go of stress and focus on getting into shape during this weight loss retreat.
Join this famous yoga school and indulge in a one-of-a-kind retreat for your body and mind. You will begin your day with meditation and pranayama every morning, followed by an Ashtanga Yoga Mysore-Style practice. Spend the afternoon in meditation guided by experts, followed by a Temazcal ritual and one cacao ceremony. Additionally, you will have time to unwind and take in Puerto Morelos' breathtaking surroundings.
In this retreat, you will meet a small, close-knit group of women who share your interests and learn about the immense richness and compassion that exist inside you.
By banding together as sisters, we will establish a holy heart-place of love, trust, and belonging, a private safe zone where profound change can take root. You will receive intense sustenance for both your body and soul throughout the retreat. In order to recover your dynamic aliveness as a woman, you'll learn to find equilibrium between your inner feminine and masculine. Join this weight loss retreat in Mexico for a truly transformational experience.
Imagine a week filled with adventures that will improve your health, physical fitness, relationship with nutrition, social interaction, and immersive learning, all set against the backdrop of a tropical beach paradise. The Future You retreat combines active experiential rejuvenation with transformational change. In Akumal, Mexico, there is a sophisticated fusion of exercise, strength training, yoga, and mindfulness.
A range of yoga classes will be offered throughout this retreat to help you develop and broaden your practice. Various workshops for women's empowerment are also available to help you rediscover your inherent potential, higher purpose, and personal strength. Visualize a trip filled with yoga, nutritious and delicious cuisine, beach time, snorkeling, salsa dancing at night, spa treatments, connections with other like-minded women, and lots of opportunity to re-connect with yourself.
Spend five days of relaxation in the Caribbean, the perfect setting for getting back in touch with your truest self. The region is a rainforest with unparalleled native beauty. Jolie Jungle Retreats provide customized diet, yoga courses taught by qualified instructors, and even magic rituals! In this retreat, develop both your physical and mental strength.
Conclusion
From the lush jungles of the Riviera Maya to the quiet sands of Baja California, these retreats provide a respite from the stresses of everyday life as well as a road to greater physical, mental, and emotional wellness.
Further Reading: 10 Reasons to Choose Retreats Over Vacations