Bali, also referred to as the Land of the Gods, entices tourists with its amazing natural beauty, which includes majestic volcanoes and serenely terraced rice fields. It is also well known for being a surfer's paradise. Choosing a retreat that has it all can be hard with so many places to visit. We'll go over the top wellness retreats in Bali in this guide to help you organize the trip of a lifetime.
Top 15 Wellness Retreats in Bali
Reset your body and mind at the COMO Shambhala Estate, which is close to Ubud and situated between two powerful rivers in a verdant jungle. Their wellness experts will create a personalized wellness journey for you with a personalized consultation. This journey will include individualized food plans, treatment schedules, and a range of health activities. This award-winning health resort offers a range of stimulating experiences, such as courses, therapeutic massage, aquatic therapy, and Ayurvedic therapies, in addition to comprehensive wellness programs.
2. The Place for Wellness Retreats in Bali
Participants at The Place gain knowledge and skills to better control their emotions, which are frequently complex and overpowering. Promoting healing via meditation, Kundalini yoga, psychotherapy, and other alternative treatments, The Place provides a selection of customized retreat programs that leverage the best practices to craft an exceptional and transformative therapeutic experience. The Place wellness retreats in Bali include a variety of approaches, with wellness plans customized to meet your unique needs.
The most opulent women's resort in Bali is called Escape Haven, therefore call all the ladies who adore luxury. This luxurious wellness resort for women only provides health services that will make you look and feel amazing. Each retreat package is adaptable and may be tailored to your preferences. You can work on tasks at your own leisure as there are no strict schedules. Get ready for a delightful, transformational week that consists solely of pampering and pure caring.
The core values of this extraordinarily popular holistic community center in the center of Ubud are love, inspiration, healing, and rejuvenation. The Yoga Barn offers one- or three-day wellness retreats in Bali that are ideal for individuals seeking a quick escape or wellness boost. An established holistic treatment center offering detox, cleansing, and restorative therapy is also housed in the barn. Throughout your one-day retreat, you'll be given access to two yoga lessons, massages, nutritious meals, and juices.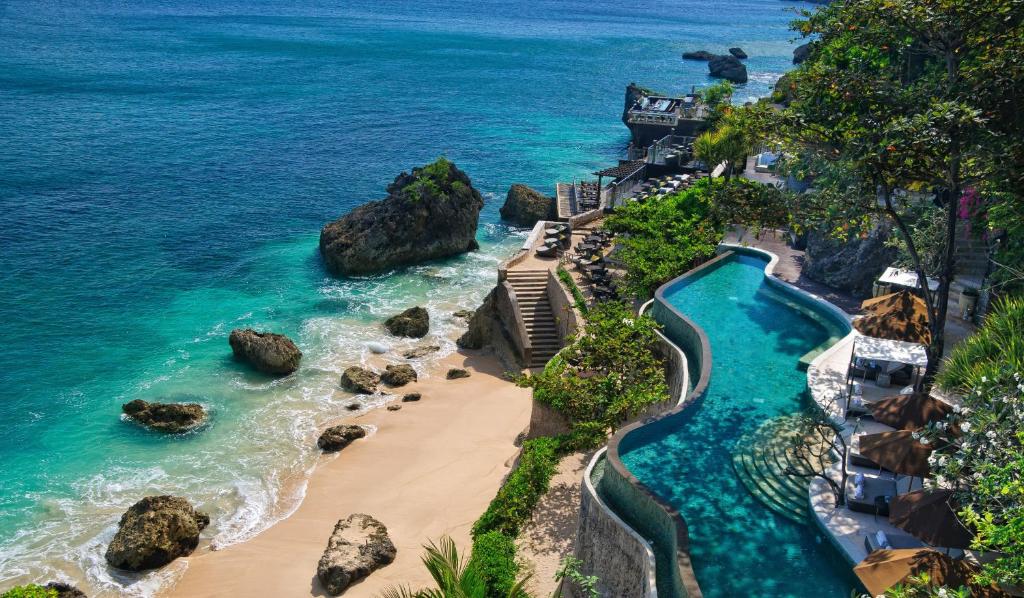 Fivelements Retreat Bali is an eco-conscious wellness resort that has won awards and is situated on the shores of the Ayung River. It provides programs that are firmly ingrained in Bali's old traditions. You may fully embrace plant-based eating, healing, and sacred arts here in Bali. Take a unique healing trip that is influenced by Bali culture, which values harmony with the environment, the spirit, and one another.
The Karma Spa at the Karma Kandara resort provides yoga classes and retreats which are intended to help you enter a deeply healing state. The spa staff is a combination of intuitive bodyworkers and seasoned anatomy-trained professionals. Ingredients used in their therapies come from sustainably and ethically farmed sources. The two main spas are set in gorgeous settings and offer spectacular vistas to go along with their many treatments and therapies.
Adiwana Svarga Loka, situated along the serene banks of the Campuhan River, is a sanctuary especially created to serve anyone looking for a very healing Balinese retreat that is inextricably linked to the fabric of the surrounding community. This Ubud retreat invites you into a realm of transforming wellbeing while blending in perfectly with the surroundings.
The Asa Maia is an Uluwatu health haven located on the tip of Bali's Bukit Peninsula. With just ten distinct suites, this little resort features a large central pavilion with an outdoor eating area overlooking a saltwater pool. There's a pathway leading to an intriguing fire pit with rock carvings. Ample amenities include a spa, bookstore, boutique, fitness center, and large yoga shala within the architecturally stunning main building.
Experience a wide range of wellness treatments at The Asa Maia, including yoga, breathing exercises, Balinese massages, and even hypnosis, all guided by qualified professionals.
Oneworld Retreats is a specialized Ayurvedic retreat center that gathers guests together for several days of physical and mental renewal. The center provides a variety of wellness retreats in Bali, one of which is an all-inclusive yoga program lasting seven days and six nights. You will receive instruction from highly qualified and experienced in-house instructors as well as foreign guest instructors. With regular meditation and yoga sessions, as well as knowledge of Balinese culture and the center's expertise in Ayurvedic therapy, the courses are designed to help you advance your yoga skills. Add spa treatments, retreat-specific activities (such as a fire ceremony) and optional extras (like bicycle trips and cookery classes) to that.
The yogic lifestyle is the main focus of Udara Bali, an exceptional healing sanctuary tucked away in the island's center. With daily access to a range of sessions, including Hatha, Aerial, Vinyasa, and more, their comprehensive yoga getaway package enables you to hone your skills or discover new yoga styles. Throughout your stay, you'll feel pampered with daily massages and cuisine from their renowned Organic Ocean Restaurant. For a restorative getaway, make the most of the opulent amenities and scheduled activities, such as sound healing and cacao ceremonies.
The wellness services at Ocean Soul Retreat will help you establish healthy habits, reboot your system, and get motivated to live life to its fullest. In addition to providing delicious and healthy meals and on-site massages, Ocean Soul Retreat offers four distinct retreat programs that are only available to women: Pilates, yoga, the surf scene, and fitness.
This stunning and environmentally friendly wellness retreat offers a variety of wellness activities. The goal of the fully customized retreats offered by REVĪVŌ Wellness Resort is to help guests achieve mind transformation by fostering self-awareness and mind training. The variety of wellness programs available are inspired by long-standing local healing customs and are intended to maintain or enhance particular physical, psychological, and mental wellness conditions. As you check into revivo resort and check out of the outer world, it's all about renewal and restoration for you.
Nestled in Bali's breathtaking scenery, the Floating Leaf Retreat provides a calm sanctuary for individuals in search of peace and renewal. The ten modern rooms in this hideaway are tastefully decorated with Balinese accents and offer breathtaking views of Mount Agung and the Indian Ocean.
Visitors can partake in restorative spa treatments, yoga and meditation workshops, and cultural events here. Guests may expect an opulent getaway with nutrient-rich food and access to first-rate facilities like a therapeutic pool, verdant gardens, and opulent lodging.
Tucked away amid verdant tropical settings, Sanak Retreat Bali is a sanctuary that provides a tranquil get-away from the everyday. Eleven roomy wooden bungalows at the retreat, each with a carefully chosen feature, embody the spirit of Indonesian tradition. Savor delectable meals prepared with organic produce, fruits, and herbs from nearby farms, and discover the therapeutic powers of Balinese massages and ceremonies.
15. Bagus Jati for Wellness retreats in Bali
Nestled in the northern forests of Ubud, Bagus Jati is a wellness and health resort that provides a wide range of holistic services and programs, including yoga, meditation, detoxifying spa treatments, Ayurvedic medicine, and Balinese culture. The expansive hillside gardens of the resort provide a magnificent backdrop for these carefully chosen retreats, making them even more enjoyable.
This retreat has been thoughtfully planned to help you achieve a blissful spiritual state, restore harmony to your energy, and mend your body-mind connections. A distinctive spa routine, innumerable yoga and meditation sessions, a customary Balinese water blessing ceremony, wholesome meals and beverages during the seven-day retreat, lectures, and seminars are all included in the program. This opulent and incredibly quiet retreat has everything you could possibly need for an introspective journey.
Wrapping Up
From fans of yoga and meditation to those looking for spa treatments and wellness programs, wellness retreats in Bali accommodate a broad spectrum of interests. These retreats are unlike any other because of the island's profound spiritual traditions and rich cultural legacy, which foster awareness and introspection.